Details

Published on Friday, 05 October 2018 13:44
Written by JST Alexander
USD and CABLE Adapting similar Direction
With China coming off from its holiday festivities, the widely anticipated Chinese stock market is expected to continue its decline. The Hang Seng Index is at its lowest levels sitting at 26572 may well open with a narrative gap due to market bear sentiments dominantly at play. Inspite of certain narratives that the so called 'National Team' of China would eventually step up into the plate to save the day, so to speak!
Although, the Shanghai Composite SSE have managed to recover from its recent lows at 2821.35 at Friday's close. Where the low price configuration have been technically motivated near its psychological base price at 2600, prompting a nice price recovery during the close.
The continued trade tit-for-tat between the US and China with no real sign of anyone blinking from their stance have contributed to the bearish volatility in commodity currencies, particularly with the Australian Dollar market. Obviously the stock market driven have affected the technically motivated AUDUSD then yet failed to follow through on its recovery which settled near the 7000 support level at 7048 at the week ending Oct 5, 2018.
AUDUSD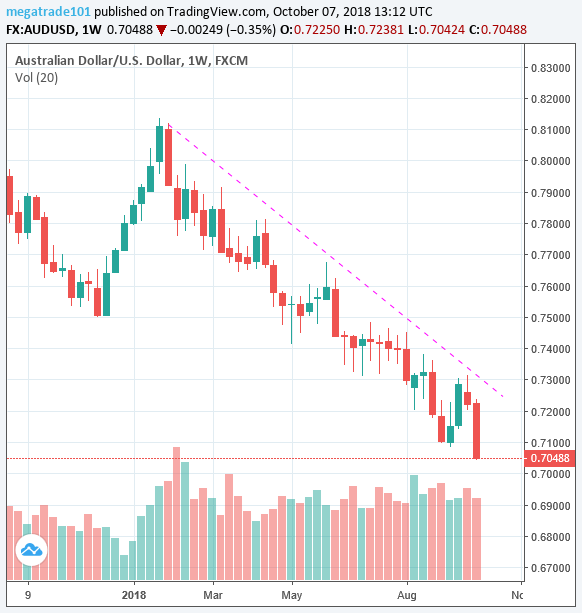 Whatever the positive market news from previous reports that gave an initial lift for the Aussie Dollar have long lost its ground from China's overwhelming stance to slug it out with US President Donald Trump. Plus the fact, that the USD have gotten enough lift coming from the rising interest rates and Treasury yields have well supported a resilient USD along its course while staying well above the 95.05/10 levels.
For as long as the USD stays above these levels, there is little room for the rest of its counter parts to gain much ground. With the exception of the GBPUSD (CABLE) that has been quite more sensitive to BREXIT talks recently gained back lost ground and closed the week at 1.3112.
On the technical perspective, there are two overlay price configuration which are incomplete for now. And would need time to finish its 'would-be-chart' pattern apparently still in the making, to provide clarity of its intended direction.