Details

Published on Monday, 05 December 2016 21:56
Written by Administrator
Page 1 of 2
Not Just Asian - PH Investors & Traders; Global Tactical Investors are Welcome too!
Each community trading session (CTS) is held during real-time trading hours of the market. Starting with the Asian session as a period of preparatory coverage, transitioning into the European market heading to the US opening bell. This would provide an excellent market outlook of the two major markets before converging into the US trading and overlay closing of the European session.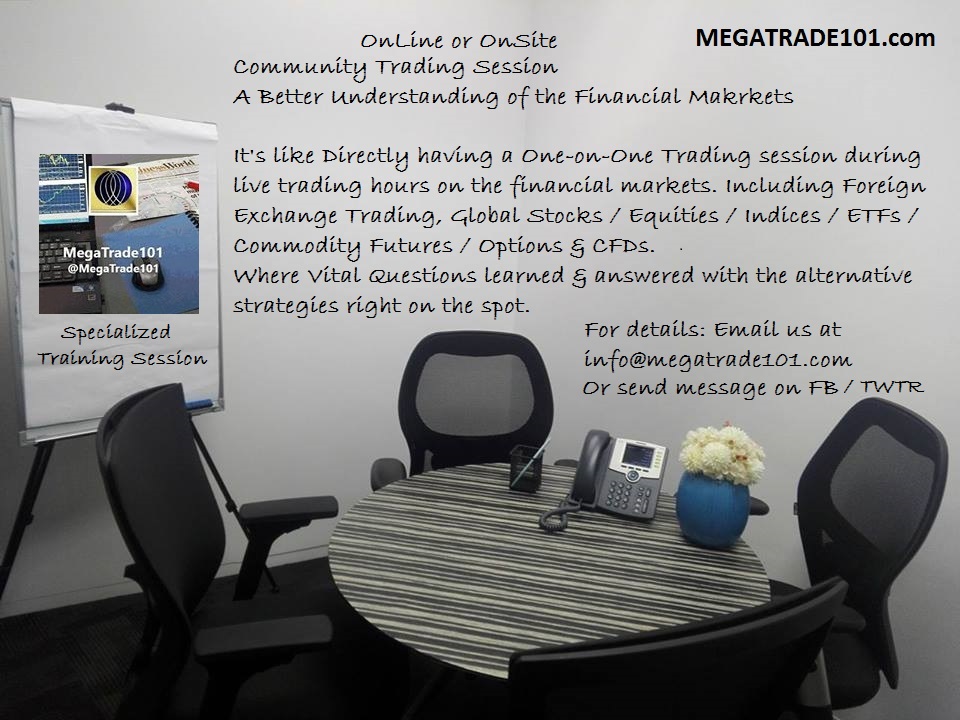 Real-tme market conditions, trade-setup, and price action analysis are openly discuss in each session. This is where active investor / traders would have an advantage over the market. Especially with strategic trade ideas suitable for current market conditions thus avoid any probable loss in the market.
Name: CTS-101 Training Program
Description: Specialized Training / Trading & Investing the Financial Markets
'Learn to PROFIT from the CORRELATION of Investing in Stocks, ETFs, Options while taking advantage of the LIQUIDITY and LEVERAGE of trading the FOREIGN EXCHANGE Market.'
Sub-category Schedule
CTS 1st - How to Trade the FX Majors by Monitoring the US Dollar Index
CTS 2nd - How to Trade the US Dollar Index, FX Majors Idiosyncrasy
CTS 3rd - Price Action & Market Behavior of FX Majors & Correlated Crosses
CTS 4th - How to trade Spot FX with the Financial Futures
CTS 5th - Know the Correlation of the USD, DOW & SP500 Stock Indices
CTS 6th - How to Hedge PSEI / PH Stock Portfolio Using Global ETF Value
CTS 7th - Know the Simple Ways of Hedging the Weakness of the PHP Vs. the USD and
How to trade it with Alternative FX Market.
CTS 8th - Special Session on How to trade the DJIA & USD Index from August 30, 2016 @18483 to present levels
CTS 9th - Special Session on How to trade the DXY, USDJPY, Nikkei 225 & Correlated Japan ETF
CTS 10th - New Sessions on the Philippine Stock Market. Tracking the PSEI Price Reference & PH Stock Picks Trends & Market Insight
Now that we made our call, it's about time that you make yours as well. And take your trading skills to the next level guided by a veteran strategist.